Recently, I started getting the error below when I tried to open any Microsoft Excel documents that were sent to me by email or downloaded from the internet.



This error is as a result of new Microsoft feature in Office call protected-mode, this prevents office also called Data Execution Prevention mode. This feature helps keep the system protected from potential security damage that might result from opening the file. In order not to be getting this error you can disable this option in Trust Centre Settings.
How to Disable the Protected-mode in Trust Centre Settings
To disable the protected-mode in Trust Centre Settings, follow the steps below
Open Microsoft Excel and go to "File" —–> "Option"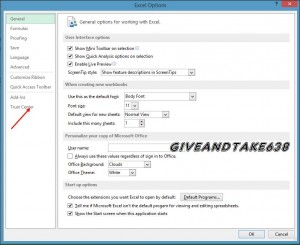 Click "Trust Centre"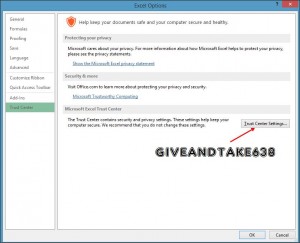 Click on "Trust Centre Settings"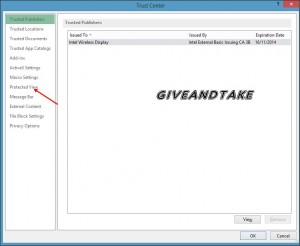 Click "Protected-view"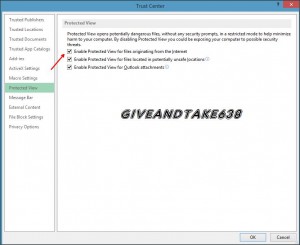 Ensure that all options are Unticked
Click "OK" twice to close the Trust Centre properties box
Open Microsoft Excel document downloaded from the internet or received from email, it should open without the error again.
This steps work also for Microsoft Word and PowerPoint 2010/2013
Your one-stop guide to all things Excel 2016 Excel 2016 All-in-One For Dummies, the most comprehensive Excel reference on the market, is completely updated to reflect Microsoft's changes in the popular spreadsheet tool. It offers you everything you need to grasp basic Excel functions, such as creating and editing worksheets, setting up formulas, importing data, performing statistical functions, editing macros with Visual Basic and beyond. In no time, your Excel skills will go from 'meh' to excellent. Written by expert Greg Harvey, who has sold more than 4.5 million copies of his previous books combined and has taught and trained extensively in Microsoft Excel, this all-encompassing guide offers everything you need to get started with Excel. From generating pivot tables and performing financial functions to performing error trapping and building and running macros and everything in between this hands-on, friendly guide makes working with Excel easier than ever before. * Serves as the ideal reference for solving common questions and Excel pain points quickly and easily * Helps to increase productivity and efficiency when working in Excel * Fully updated for the new version of Excel * Covers basic and more advanced Excel topics If working in Excel occasionally makes you want to scream, this will be the dog-eared, dust-free reference you'll turn to again and again.